Schiffli Embroidery Machine
The Heilmann embroidery machine was dominating till late XIX century. However in 1863, Isaac Groebli of Oberuzwil, also in Switzerland, invented a different type of embroidery machine, which worked on the same principle as a sewing machine, with a normal needle.
Нажмите на картинку для просмотра ее в увеличенном виде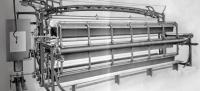 Its design borrowed the hand crank and pantograph from the hand-embroidery machine from its predecessor - the Heilmann's machine. Although, there were some significant differences. The hole in the needle was situated on the top if needlepoint. It required two threads for each needle, one of which was picked up from a shuttle behind the fabric.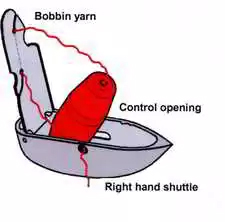 It was named the Schiffli machine, from the small boat-shaped shuttle that produced the backing stitch (German: Schiff – boat).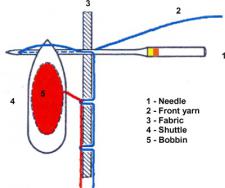 The Schiffli machine is a variation on the sewing machine. It embroiders with a front thread and bobbin thread (yarn at the back of the cloth) which from together a lock stitch, similar to that of a sewing machine.


There were lots of such needles. At present time in Manchester Metropolitan University there is a working Schiffli machine which is approximately 100 years old. There are 'only' 86 needles in it and the width of embroidery field is 2 meters.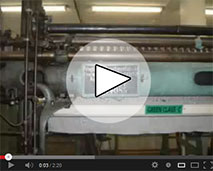 Here you can see how this machine works. The video was taken from this web site http://www.miriad.mmu.ac.uk/


The automatic Schiffli embroidery machine was invented in 1898 by Isaac Groebli's eldest son. This dispensed with the pantograph and incorporated a Jacquard system of punched cards to create the design. By 1900, it was fitted with 312 needles, and electrically driven machines were becoming available. These machines were so massive they were only suited for factory use.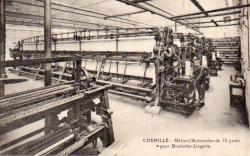 This is a workshop with Schiffli embroidery machines from about 1905. It has been fitted with a Jacquard punched card system on the left hand side, to replace the pantograph. It looks as if this machine is fully automated and one man was in charge of it.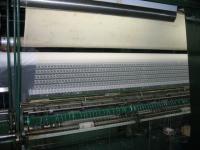 We'd like to notice, that despite the old age of Schiffli embroidery machines, they still exist and they still used in the manufacture at present time (of course in modern embodiment). The machine might be 18 meters long and might have 1000 needles. They are used for a great variety of embroidery on huge cloth of fabrics, including lace.


Here you can find out about the principle of structure and work of such machines - http://www.textileschool.com/School/Embroidery/SchiffliEmbroidery.aspx